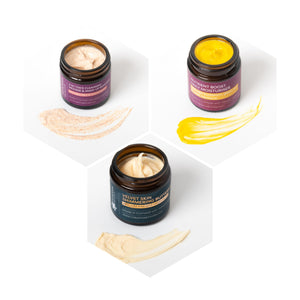 If your skin falls into dry skin type  it is also probably delicate and susceptible to flaking and fine lines. It simply doesn't retain moisture well. And this bundle is for you.
Enjoy this gentle beauty regime. Cleanse and moisturise daily for better looking, plump skin.
Use as following:
1. Use 2in1 Cleansing Mousse and Make-Up Remover 60ml in the morning and at night before using moisturiser.
2. Apply Nutrient Boost Daily Moisturiser 30ml - am
3. Velvet Skin Shimmering Melt 60ml - pm